What have people said about Luna Eclipse?
"We want to thank you from the bottom of our hearts for the fantastic job-the best ever!-and making our wedding extra special. We are so lucky to have had the opportunity to have you dj. Our families are still talking/raving about how amazing you are. Thank you so much, with sincere appreciation,"
Liz and John Brochu
---
"I had such a blast working with Chris! I looked at quite a few DJ's and I loved that Chris is a "one man show." I knew I'd only be working with him and if I had questions or problems, there was no "middle man" to worry about. The first thing he assured me was that my wedding day was about ME. It wasn't about his image or making himself the center of attention. It was about making my wedding the best he could for me! He got to know me well enough on a personal basis that I felt so comfortable just passing over the reigns and telling him to do what he thought was best (I didn't do that with anyone else involved with my wedding; vendors or family/friends!).
Chris was also available to me ALL THE TIME ha! I was a very...well, controlling bride and a little bit OCD about things and Chris just laughed and rolled with my punches which made my life that much easier. With a nice mesh of my choices in music and Chris', my guests complimented the music all night. My Aunt made a point to comment to my dad that my music was just fantastic. I made a CD for Chris of some very specific songs that I wanted for the ceremony that I didn't think he would have. But the CD didn't work! Instead of stressing me out and telling me he needed another CD, he bought all of the songs I had requested and told me about the CD after the wedding. I can't thank him enough for going ABOVE AND BEYOND in that regard.
Certainly for my OCD nature, the most important thing was that Chris kept my wedding on track. I didn't worry about where I had to be or what was coming next. My wedding started on time (Chris did our ceremony and reception music) and ended on time and everything we needed in between. I've already recommended him to my sister-in-law who booked him for her wedding before she even saw him in action. I've recommended him to everyone I know who's getting married!"
Renee Russell
---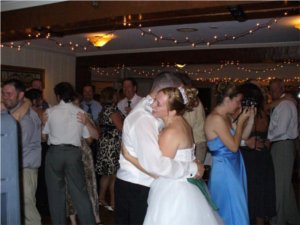 "My husband and I met Chris at a Bridal Show.  We spoke with three other DJ's that day who we couldn't get away from fast enough!  Most DJ's we had met were just so over the top in your face, and that's not our style.  Chris didn't try to "sell" us at all, he just talked to us about his experience and about how he works, so we took his card and decided then and there that he was who we were going to use.  We are from Massachusetts and Chris made meeting with us as convenient as he could.  He was great to work with; organized and made us feel 100% comfortable that our day was going to be perfect.  We could not have been happier with Chris!  Our reception was so much fun and the most common compliment we got about the whole day was "that DJ was fantastic!"  We had guests from 3 to 86 and every single one of them was up on the dance floor until the end of the party.  Chris played music that everyone could enjoy and my mother, who is the toughest critic, said he was the best DJ she'd ever seen!  A friend of ours, who is a DJ himself, said he would absolutely recommend him and my uncle, who doesn't say much at all said "that party was alot of fun"!   I really enjoyed meeting and working with Chris and I would hands down recommend him to anyone looking for a fantastic DJ!" 
Katie Blandford
---
"Mr. Ialuna repeatedly reminded us that it was our day, and he could be as enthusiastic or as lay low as we wanted. The meetings were very informal; and Mr. Ialuna would go over the paperwork and any and all questions we had. Mr. Ialuna was in constant communication with me throughout the entire planning process.
Mr. Ialuna did a tremendous job at our reception; he was not over powering, introduced everyone in a timely fashion, and played the songs we wanted. Mr. Ialuna was asked by my other wedding guests to DJ their parties or weddings. My guests are still asking me where I found him and for his contact information. Mr. Ialuna was so interested in what my fiancée wanted and listened to our needs. He followed through with everything on the wedding day!
I would recommend Mr. Ialuna to anyone interested in having a caring, fun, and energetic DJ. If you chose Mr. Ialuna as your Disc Jockey, you are guaranteeing your guests and yourself a great time."  
Nicole Roman
---
"Chris was a true professional. Creativity, thoughtfulness, and flexibility are his strong suits. The wedding reception was perfect, in no small part thanks to Chris and his influence. Our experience with Chris was all we hoped for and more. He gave us guidance when needed, and was able to work in our requests and needs flawlessly. Our guests loved his style, he made everyone comfortable and he got them to dance!!!! They actually danced!!!
To say we recommend Chris for any event would be an understatement, to me he's a necessity if you'd like your guests to be comfortable and have fun, oh yeah and dance!!!!!"
Jeff and Tracey Sirles
---
"Just wanted to thank you again for being our DJ at our rehearsal dinner and our wedding!  The music you chose for both nights was perfect, and as I'm sure you noticed, everybody danced up a storm.  Our friends and family are still commenting on how much fun they had.  It was such a pleasure to work with you and we highly recommend you to others. Thanks again!!"
Ed and Lauren Stoesser
---
"We would like to thank you for being a part of our special day. Our wedding was more perfect than we could have expected and a large part of that is due to your passion and commitment to providing the best music and entertainment possible. You were so easy to work with and we really appreciated you going out of your way to find some winter music for our winter themed wedding. Your calm and friendly demeanor really made the planning process so easy for us. We also appreciated your flexibility in working long distance with us. You were very flexible and that's exactly what we needed! Our guests are still commenting on how great the shoe game and blow up instruments were! We are still getting a good laugh when looking at the pictures and remembering how funny it was. All of the music was appropriate and just what we hoped it would be. Thank you for helping the reception run smoothly and keeping things going in a timely fashion. You truly have a talent for being a DJ! We really couldn't be happier with your services. We hope that if the occasion arises we can work with you again and we will definitely recommend you to all of friends and colleagues! Thank you for all your hard work and dedication to our wedding."
Jason and Holly Fougere